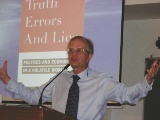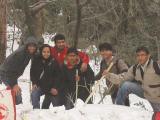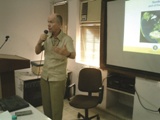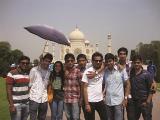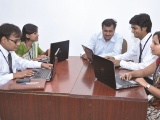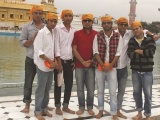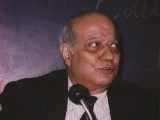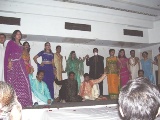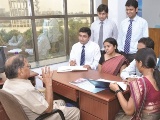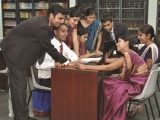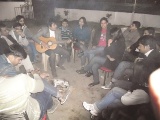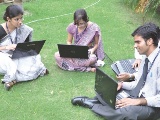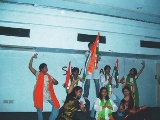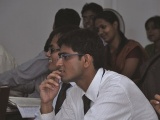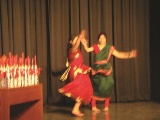 Basic Business Finance (BBF)
[One Year Distance Learning Post Graduate Program]
The course is designed to provide the basics of Financial Economics. BBF enables one to form the base for one to pursue a career in Finance. The program also help students to act as a bridge course for those who are interested to apply abroad for MBA(Finance) with 3 years or 4 years basic bachelors degree.
Fees
| | | |
| --- | --- | --- |
| | | Program Fees (Rs.) |
| I | General Category Seats | 60,000 + GST |
| II | Direct Admission / Sponsored Seats (Incl. SAARC Countries) | 90,000 + GST |
| III | Foreign Category / NRI Seats | 1,20,000 + GST |

Objectives
To educate & develop necessary competence & skills in the effective management of business finance, with some of the latest techniques, methods, procedures and the latest financial innovations.
To reach those who either live or are posted in far flung areas of India and have no regular educational facilities.
To provide an opportunity of learning for those who cannot leave their present assignments to join course(s) of their interest on a regular basis due to their preoccupations in office, vocation or business but are seriously interested to learn the techniques of effective management of finance.

Eligibility
Graduation in any discipline from Indian or Foreign recognized university with minimum of 50% marks.

Candidates appearing in the final year Bachelor's examination are eligible to apply. Such Candidates, if selected ,will be given provisional admission subject to their clearing graduation. The certification of the same has to be submitted before 1st Semester exams.

Selection Criteria
Admission to IIF programs is very rigorous. The admission to distance learning program (DLP) is based on calculation of Grade Point Score (GPS). The Grades are given on the basis of candidates' past academic records, other achievements, work experience, professional growth positioning and personal interview for all category of candidates.
IIF follows a policy to admit some fresh graduates and also women candidates, even if their comparative GPS is relatively low but above the minimum cut off point. The admission policy of the Institute takes into consideration a candidates total background.
Admission is strictly on merit. Convassing in any form would disqualify a candidate for admission.

Program Module
The first two semesters are designed to provide the basics of the finance function along w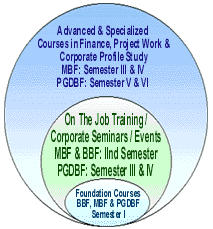 ith the other functional areas of management.

At the end of the first year the students are advised to undergo Summer/ Experiential training in industrial, business organizations and international agencies. The objective is basically to provide the students with real life exposure which they cannot gain from simple study. They get the opportunity to learn beyond the text by solving business problems and decision making during the training period.

Teaching Methodology & Study Package
IIF adopts a unique teaching methodology. IIF supplies study package containing high quality relevant text books/ IIF publications and study notes on each subject in the beginning of each semester. IIF mails a study plan mentioning the dates on which the additional communications and test set modules will be sent. IIF sends test questions containing - true/false questions, multiple choice questions, short answer questions, long answer questions and case studies, every fortnight, which may be attempted by a candidate and sent back to the IIF for evaluation. IIF returns the evaluated test questions to candidates. IIF sends the case studies for being attempted by candidates. The cases are representative of actual managerial problems which occur at various business environments. The case analysis method demands students to make decisions, develop, implementation of plans and explain, and defend their actions via discussions or written presentation. These studies develop the talent and confidence to face the real world problems. All the case studies after evaluation are returned back to the candidates.The candidates progress is monitored and feedback is obtained from time to time during the semester.
Course Structure
Year I
Semester I
101
Accounting for Financial Analysis
102
Economics for Decision Making
103
Quantitative Tech.'s & Forecasting for Finance
104
Computer Applications in Finance
105
Regulatory Framework of Business
106
Organisational Behaviour

Semester II

201
General Studies & Personality Development
202
Macro Economics & Public Fin.
203
Operations Research for Finance & Risk Analysis
204
Human Resource Management
205
Marketing Management
206
Management Accounting & Control

BBF Project Thesis

700
Live Thesis Project (Equivalent to two courses)

Note for all the DLPs:
1. First Year (Semester I & II) of MBF forms part of BBF program. Students willing to pursue MBF after completion of BBF can extend their program by intimating IIF's office within three months of completion of BBF.
2. Non working candidates are expected to undergo "On-the-job" training so as to gain real life exposure to supplement the study material provided by the Institute.

Examination Scheme
IIF follows a unique open book examination system. The question papers are sent to the candidates by registered post. They are expected to attempt in one sitting and return the answer books within one week by registered post. However, if one is unable to send the answer papers within one week, the student may submit the answer papers in subsequent weeks. There is a graded penalty for late submission. The question papers are very comprehensive and only those who have seriously studied during the semester are able to attempt the question papers. The Institutes unique system of examinations has been found to be more satisfactory, rigorous and beneficial than the traditional system of examinations. For examination pattern please see examinations scheme in the prospectus.