The treatment of the fundamentals and theory is provided systematically by the faculty through Lectures, Panel Discussions, Group Exercises,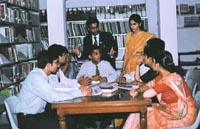 Practical Problems Solving Sessions, Case Studies, Role Plays and Syndicate Sessions, Brain Storming Sessions, Financial Review, Seminars and use of Audio Visual Aids. Ample opportunity is provided to the students to raise specific issues and sharie of their experiences.
The Institute has developed an inventory of over 500 case studies in Financial Management. Students are exposed to a large number of cases.
Students are sponsored to participate in various seminars, conferences, annual meetings, TV shows, annual meetings of Industry chambers